Raise the Dead for Fun and Profit
Raise the Dead feature update! (v20230119-02)
---
I received a lot of excellent feedback from people (especially during a live play test) and was able to bring you some new game mode features!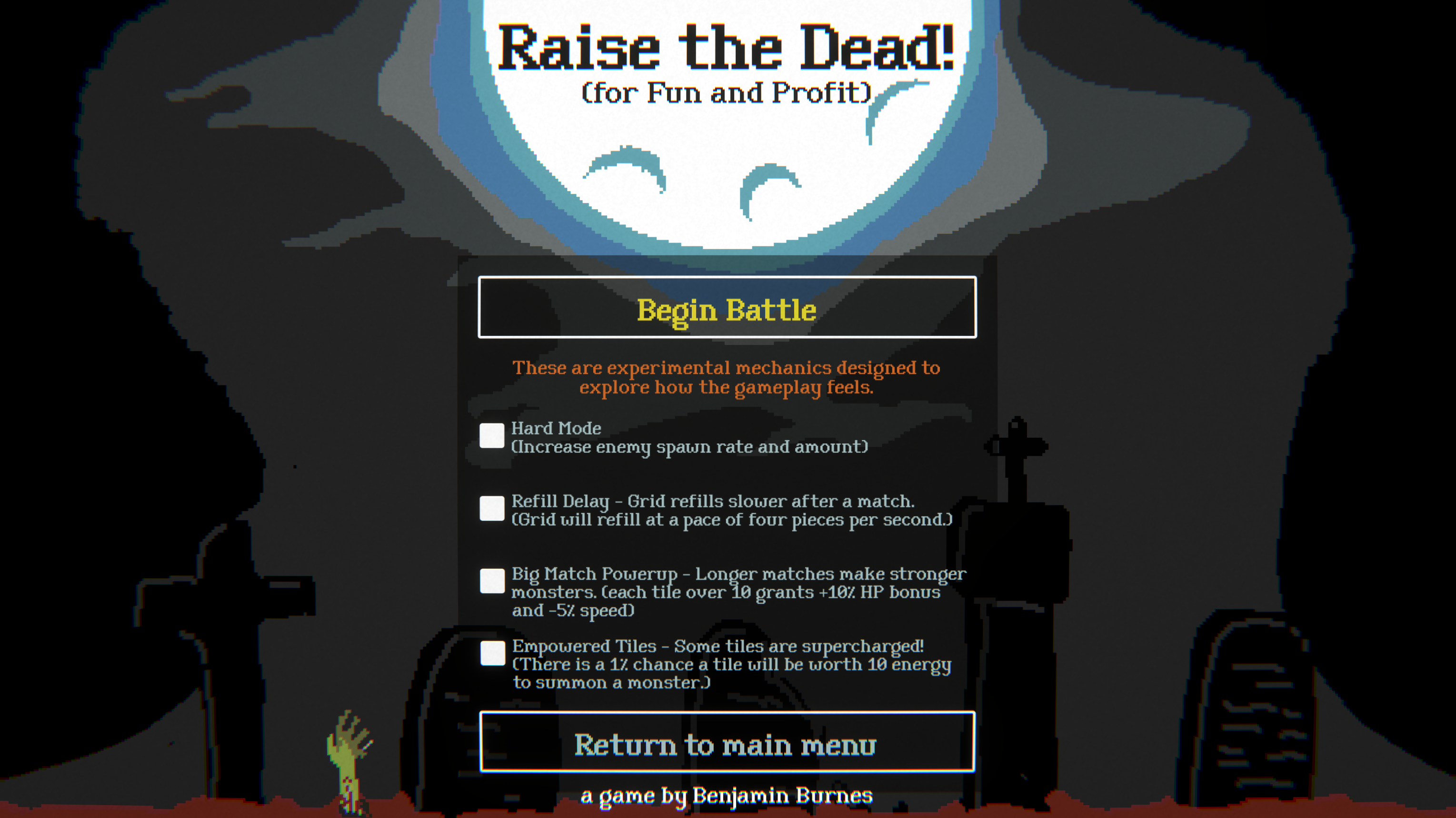 Game Mode Changes
(ADDED) Big Match Powerup: I wanted to reward longer match chains so now when you create a match that is 10 or greater it will spawn a monster with better stats. I think this will likely become a permanent addition to the game because it encourages and rewards taking risks to make big matches.
(ADDED) Empowered Tiles: There is a 1 in 100 chance that a tile that summons monsters will be glowing. This tile gives you a bunch of resources to summon more monsters. This might be something that only appears on side columns that you've unlocked as a reward for expanding your play grid.
(REMOVED) Match Cap: It wasn't fun and didn't bring dynamics into the game, just waiting for your move again. Lesson learned!
Other Changes
Lots of small things I likely forgot about here, but this is the highlights.
When you click and drag, the pitch of the collection sound rises up
Fixed the dirt tile so it looks less like a meatball 🍽️
Fixed Z-fighting for the monsters on the battlefield
In the Next Update...
The next update will be where I start adding a bit more depth and visual polish to the game. There is a lot I would like to do so it might take a few weeks since I'm bouncing between personal projects, a day job, and commissioned work. Here are my goals:
Spend coins to unlock blood and skull tiles

Match flesh to evolve blood

Match bones to evolve skulls

Collect mana by matching large groups
Spend mana for temporary boosts


Increase damage of your monsters
Empower a random tile on the grid

Blood and skull tiles summon stronger monster
Better UI to display coins and mana
A UI element to better show where the battle is so you can tell if you need a big summon without looking up
Some animations or particle effects for collecting
Better enemy AI that escalates their attack as time goes on
Files
raise-the-dead-for-fun-and-profit-win.zip
31 MB
Version 20230119-02
69 days ago
raise-the-dead-for-fun-and-profit-mac.zip
41 MB
Version 20230119-02
69 days ago
Get Raise the Dead for Fun and Profit